Day of Service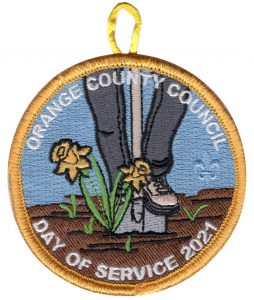 Scouts and Scouters – perform 100 hours of community service hours to earn the 100 hours Centennial Service Award Patch (click on requirements below).
DOS – The goal of Day of Service is to maximize Scouting's service to Orange County by consolidating a variety of service projects, chosen by our Scouts and Scout leaders – and to make a difference in our neigborhood/community.
DOS patch is available for purchase via Blackpug between Nov 1 -20 for $1.50 each – can be for any scout, non-scout participant, siblings, adults, and leaders who took part in the unit activity.