Scout-O-Rama

The biggest local annual scouting event
Each your 20,000 scouters and their families flock to the local Scout-O-Rama one day event.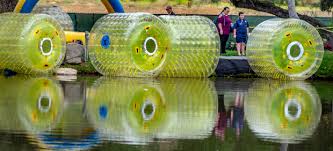 Bubble Rollers
INFLATED plastic bubbles for scouts to roll around inside and try to maneuver across water.
There are so many different activities for scouts and their families to do. One day isn't enough to catch it all, but you have to do your best to do so, since it's only one day annually. Always the Saturday before Mother's Day.
Scout-O-Rama
20,000 in attendance
Every unit in Orange County is invited to attend, and provide a booth of their choosing. You can bake monkey bread, do a dutch oven cobbler, scout trivia, and more. That's just the scout side. The merchant side usually has activities like BMX and skateboarding shows, food trucks, and more.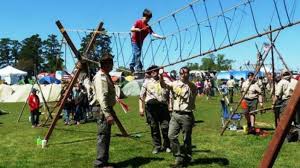 Monkey Bridges
A WIGGLY, BALANCING ACT OF FUN
Where else can you hop on a monkey bridge, race a pushcart, make slime, do potato sacks races,climb a tower, raise a giant flag pole, and lots more. Scout-O-Rama is always laid out slightly different, so each year has its own unique flair. Create life long memories.