Veteran's Day -Flag Planting Nov 4. 2023

Cypress Forest Lawn –  11/4/2023 8am.
We will have hot Chocolate and Donut for all. 
Please RSVP to Kim Mundala to receive a patch.
Kmundala@gmail.com or 626-253-2408
We will be all done by 11am so come early and get it done.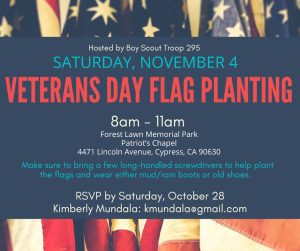 This is the video from last year if you want to review the event.
Click here for a video instruction.    Click HERE !!!!!