642 Eagles nest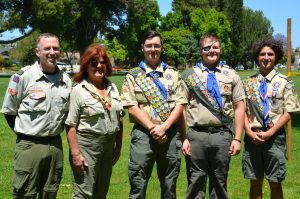 Troop 642 Celebrates Eagle Scout Advancements
On Saturday, June 24th, the troop leaders and parents of Troop 642, Seal Beach/Rossmoor, hosted a Court of Honor for their Scouts who earned the rank of Eagle Scout this past year. Those Scouts in attendance and recognized included the following (who are also high school seniors):
Kyle Daniels
Cade Powell
Bronson Tsarofski
Three additional Scouts who were away for travel and not able to attend the event were Scotty Melendres, Anders Jew, and Andrew Baldwin.
Kyle Daniel's Eagle Scout project consisted of refurbishing the dilapidated garden area of Iva Meairs Elementary School in Westminster. Kyle is a graduate of Oceanview High School and will be attending Golden West College. Cade Powell's Eagle Scout project involved replacing the carpet in a charity thrift shop that improved the safety and comfort of the volunteers, especially those who are elderly. Cade is a graduate of Los Alamitos High Schiool and will be enrolling at Columbia College. Finally, Bronson Tsarofski's Eagle Scout project involved building a compost bin at McGaugh Elementary School in Seal Beach. Bronson's compost bin is adjacent to the garden where his brother's Eagle Scout project was installed. Bronson's future plans are to pursue a career in law enforcement after completing an EMT course/certification.
Eagle Scouts, Joe Byone and Matthias Ronnau, both former Scouts of Troop 642. Served as the co-masters of ceremony for the event. After offering congratulations and welcome to all guests by Charlie Osaki, Goldenwest District Chair, the Scoutmaster of Troop 642, Dan Moran, was acknowledged for his exemplary leadership of the Scouts over an 11-year tenure as Scoutmaster. Before joining Troop 642 as an adult leader, Dan Moran was the Cubmaster of Pack 642 and intended to "retire" from being a unit leader [after completing his Cub Scout leadership role]. However, Elizabeth Ronnau, the current Board of Review Chair for Troop 642, apparently had other plans for Dan. She recruited the current Committee Chair, Stacy Byone, and other parents who then recruited Dan to join Troop 642 as an Assistant Scoutmaster, concurrently with their sons bridging over to that same troop. And that's where they are today, as Dan has developed and sustained an outstanding unit during his time as Scoutmaster.
It was gratifying to see multiple generations and friends of Kyle's, Cade's and Bronson's families beam with pride at each of these young men's achievements, and each Scout expressed the importance of family and troop leadership support in helping each of these new Eagle Scouts attain this apex of achievement.
A special thank you to Norm Herron, our Goldenwest District Eagle Advisor, for helping each of Troop's 642 newest Eagle Scouts wrap up their last required hurdle of completing the Eagle Scout Board of Review and completion of the Eagle Scout application.
Congratulations, again, to Kyle Daniels, Cade Powell, and Bronson Tsarofski!